Still I am used to write the Spanish "Concepcion."
The priest this morning Mass reminded us of Our Lady of Lourdes and Saint Bernadette.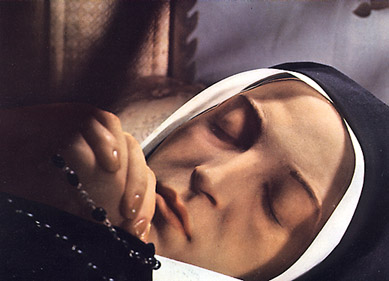 I had a book about St. Bernadette before, and I would always stare at her picture (like the one above). She looks like she's praying to the Blessed Mother. How blessed are her eyes! I'm praying and hoping that I'll have the chance to go to Lourdes. If anyone of you is willing to bring me to Lourdes, please don't hesitate to contact me :p!
Going back to Our Lady, I'll be making my
Total Consecration to Jesus Through Mary
on December 12, feast of Our Lady of Guadalupe. I almost had 5 attempts of making the preparation but I found it very hard. I would put in my calendar, then I won't be able to do it, or, like the first time, I won't finish the preparation.
But the Lord gave me the strength last month and I am so happy that I'll be finishing the preparation and make the consecration on Sunday! Please join me in prayer. God bless you!
Me and my old stretcher.